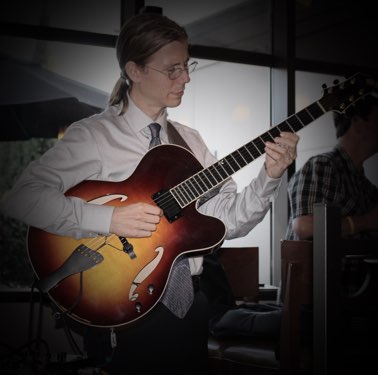 Jim's current projects involve recording, performance, composition, and teaching. He plays rhythm section instruments drums, bass, and guitar and records for the purposes of integrating recorded music into live performance and music video production. Jim performs and records original compositions as well as covering repertoire from many genres including pop, rock, hip hop, and jazz.
Jim is also a dedicated teacher providing private lessons, classes, and ensemble coaching. He also creates written materials for students on a weekly basis. These materials include worksheets, song sheets, and musical excerpt collections. These materials keep students interested and help them develop. Jim also produces instructional videos for students to view at home between lesson times.
Moving forward Jim is hosting and producing a podcast, developing entertainment and educational websites, writing several guitar books, and recording an original release.
Background
Jim Ellis grew up learning to play piano, guitar, and bass in the Baltimore/Washington metropolitan area and began performing and teaching in his early twenties. He studied guitar with Walter Namuth, a long time member of the Buddy Rich band. He has jammed with Butch Warren, a bassist for great musicians like Herbie Hancock, Thelonious Monk, and others. Jim also studied upright bass with renowned bassist Steve Novosel. Jim has a Bachelor of Arts in music performance from the University of Maine and a Master of Music in Jazz Studies from the University of Southern Maine. After graduating, Jim performed throughout New England, the Bahamas, Central America, and the Caribbean Islands. Jim currently teaches private lessons, guitar and music theory classes, and performs regularly.